SHOULDER & UPPER EXTREMITY
Our Shoulder & Upper Extremity Specialties.
Advanced Ortho and Spine's Hand, Elbow and Upper Extremity Program provides expertise in the care and treatment of arm, shoulder, and upper extremity injuries and conditions, including rotator cuff tears/injuries and shoulder arthritis, dislocation, separation, fracture, cartilage tears, impingement, bursitis, and frozen shoulder. Our upper extremity experts offer the latest innovations in shoulder arthroscopy and more. Find relief from shoulder and arm pain with our upper extremity team.
Want to learn about our hand, wrist, and elbow specialties?
The rotator cuff includes a group of muscles and tendons that surround the shoulder joint and help keep it stable. These assist you in lifting and moving your arms away from your body. Rotator cuff tears are very common, especially as you age. Causes of a rotator cuff tear include either an injury or degeneration over time. It is possible to experience a partial or full-thickness (complete) rotator cuff tear. Common symptoms of a rotator cuff tear include pain at rest and at night, mainly if lying on the affected shoulder, pain with lowering or lifting your arm or with certain movements, weakness when lifting or rotating your arm, and/or a cracking sensation when moving your arm in particular positions. Advanced Ortho and Spine provides several surgical and nonsurgical treatment options for rotator cuff tears, including shoulder arthroscopy.
Condition + Treatment Overview: The Rotator Cuff
In this procedure and treatment overview video, Dr. Christopher Cook, board-certified orthopaedic surgeon, discusses common treatments for patients with rotator cuff tears/injuries. He explores the main symptoms of rotator cuff injuries and gives an in-depth overview of the various treatment options available, including shoulder arthroscopy surgery. Watch this video to learn more about rotator cuff injuries and treatments.
A dislocated shoulder is most often caused from a fall or blow that triggers the arm bone to pop out of the shoulder socket. This injury often causes severe pain in the shoulder and upper arm, as well as a bump in the front or back of the shoulder, depending on how the bone is dislocated. Treatment for shoulder dislocation includes moving the bone back into place, splinting/immobilization, ice rest, medication, rehabilitation, and in very rare cases, surgery.
Contrary to its name, a separated shoulder doesn't directly affect the shoulder joint. Instead, one of the ligaments that connects the collarbone (clavicle) to the shoulder blade is torn. Symptoms of a separated shoulder include immediate intense pain, shoulder and collarbone tenderness, bruising and/or swelling, and a distorted shoulder. Treatment for shoulder separation includes rest, ice, medication, rehabilitation/physical therapy, and in very rare cases, surgery. Most people regain full function within a few weeks of the injury.
Shoulder impingement syndrome, often called 'swimmer's shoulder,' typically occurs when the top outer edge of the shoulder blade rubs up against the rotator cuff beneath it. This condition often comes because of a preexisting rotator cuff injury or irritation and is typically caused by inflammation from repetitive shoulder activities. Typical symptoms of shoulder impingement syndrome include pain when lifting the arm overhead, difficulty reaching behind the back and weakness of the shoulder muscles. Treatment includes rest, medication, ice, rehabilitation/physical therapy, and if conservative treatments don't work, surgery.
Shoulder bursitis is the inflammation or irritation of a bursa – a small fluid-filled sac that reduces friction between moving parts in your body's joints – in the shoulder. Symptoms of bursitis include an achy or stiff feeling, added pain when you move or press on the inflamed area, and swelling and redness. You should consult a doctor if the pain becomes debilitating, you experience a sudden inability to move your arm, excessive swelling or redness at the affected area, a sharp or shooting pain, especially during exercise or exertion, or run a fever. Treatment of shoulder bursitis include rest, ice, and medication. Bursitis pain typically goes away within a few weeks with proper treatment. However, recurrent flare-ups are common.
Frozen shoulder, also called adhesive capsulitis, is a condition described as stiffness and pain in the shoulder joint. Typically, the symptoms are gradual, worsening over time and then resolve, usually within one to three years. Those recovering from a medical condition or procedure that prevents movement of the arm – such as a stroke or mastectomy – are at a higher risk of developing this condition. Treatment involves physical therapy, including range-of-motion exercises, and sometimes, corticosteroids and numbing medications may be injected into the joint. In rare cases, surgery may be indicated.
Did you know we offer convenient onsite physical therapy?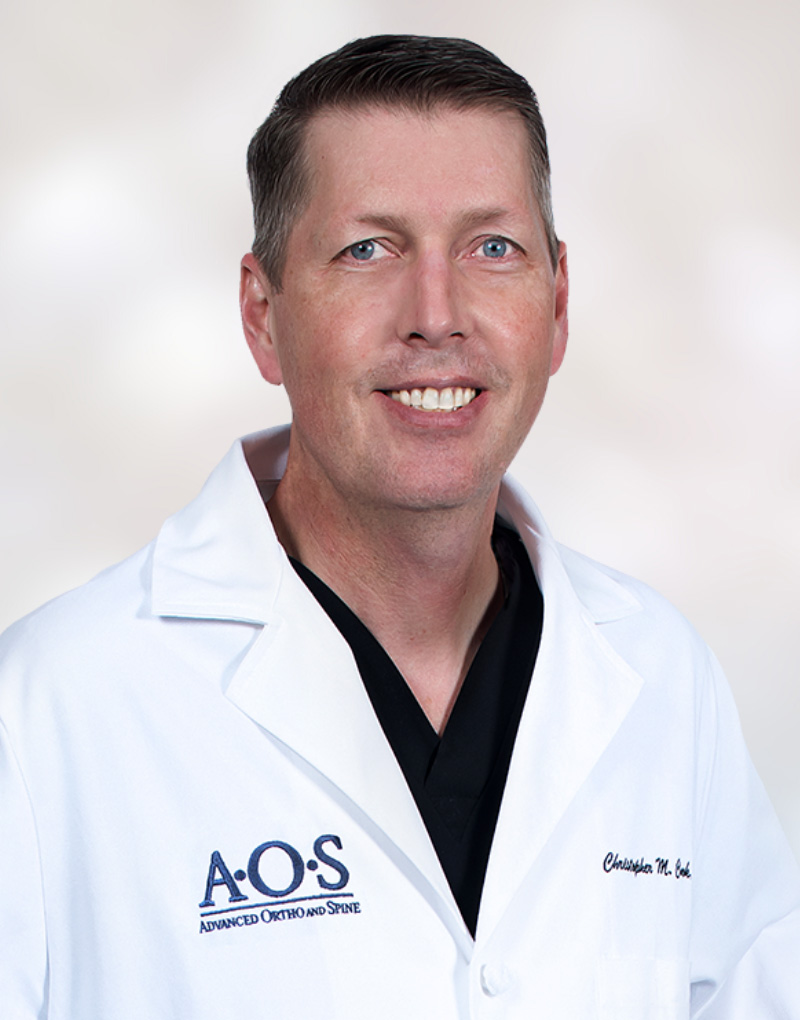 Board-Certified Orthopaedic Surgeon,
Sports Medicine & Joint Replacement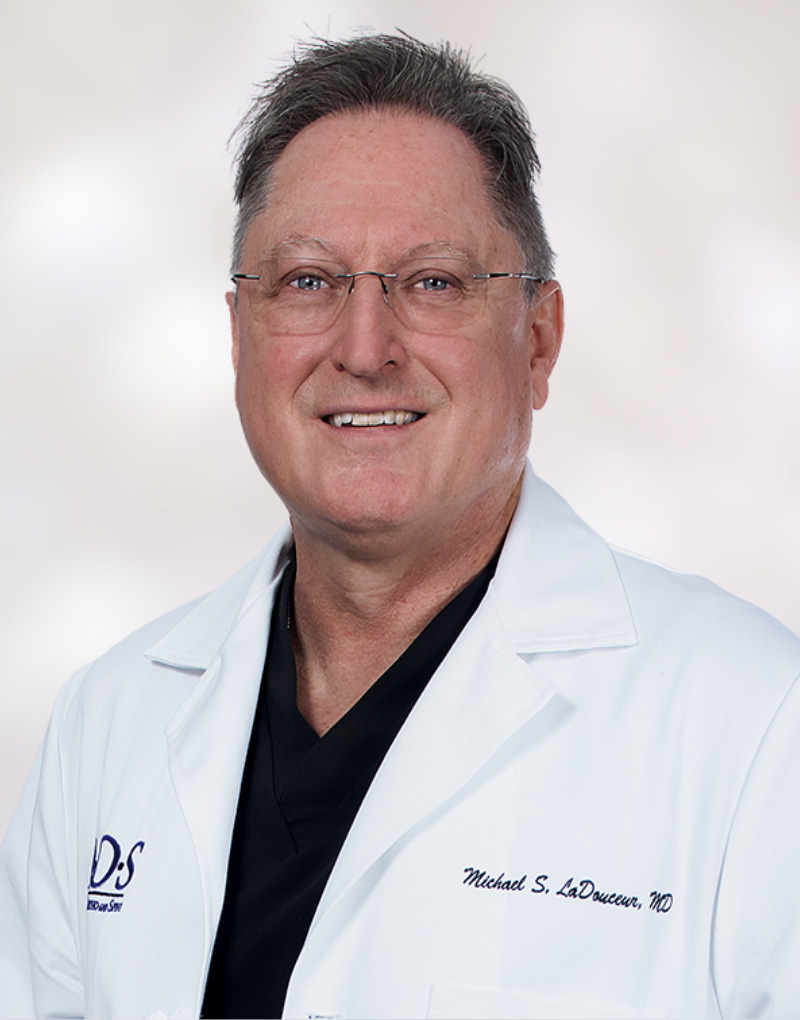 Board-Certified Orthopaedic Surgeon,
Sports Medicine & Joint Replacement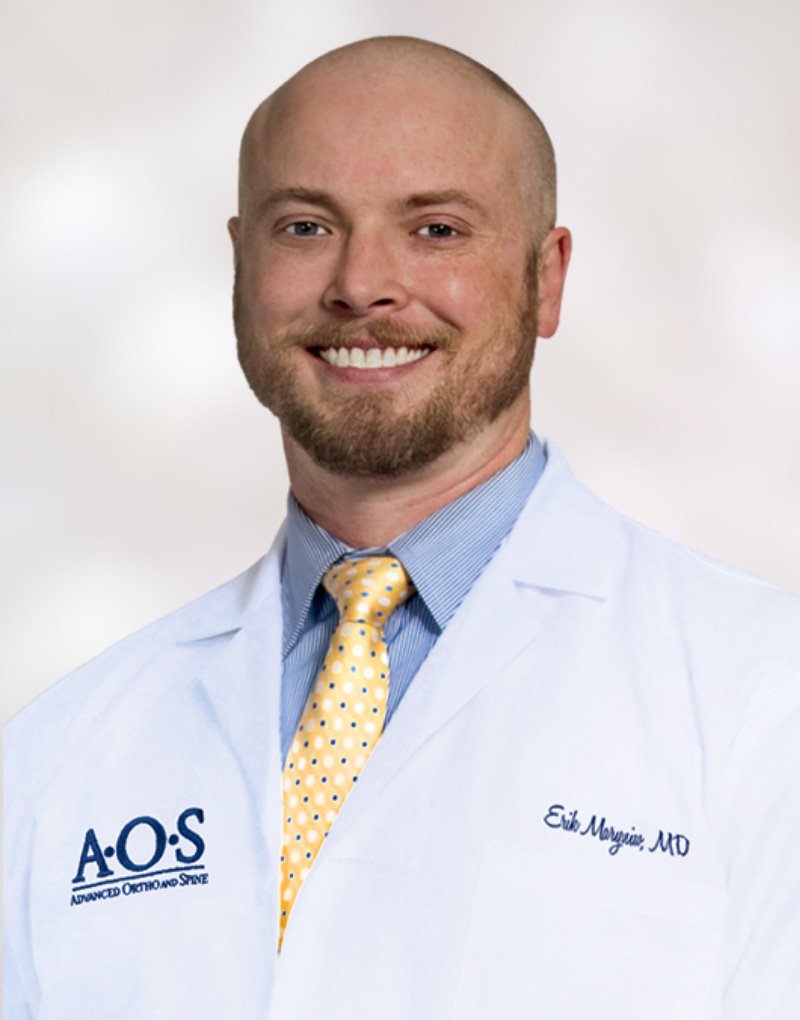 Board-Certified Hand & Upper Extremity
Surgeon, Board-Certified Orthopaedic Surgeon
Want to learn more about our specialties and procedures?
WANT MORE TIPS + INFORMATION?
Advanced Ortho and Spine offers patient-centered care, which includes patient education. Learn more about conditions, treatments, practice news, and more on our blog.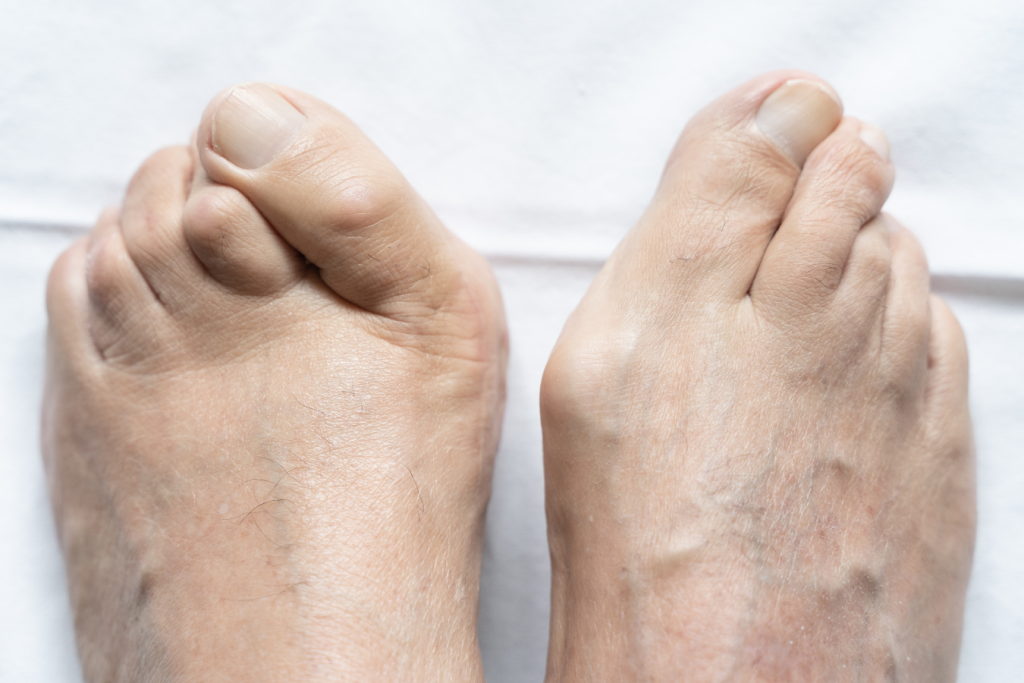 Hammertoes (hammer toes) and mallet toes are a few of the most common foot conditions. In fact, research by Nextremity Solutions, Inc. indicates that forefoot deformities, such as hammertoes and mallet toes, are an endemic …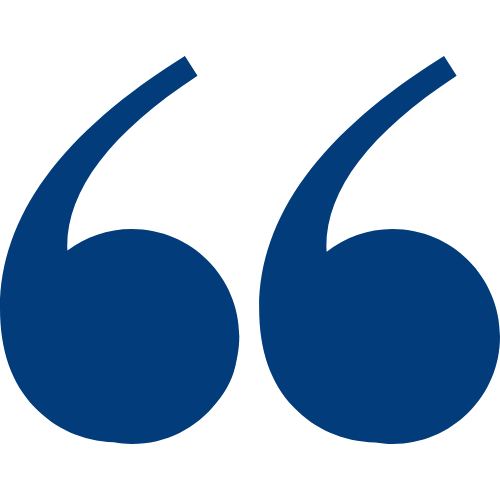 Dr. Cook recently replaced my right hip. He did the left 3 years ago. Love this doc! He is so professional and had an easy going bedside manner. He explains everything in understandable language. He even called me with MRI results when he was on vacation. The staff, from the front desk, nurses/assistants, appt dest and PT crew are helpful and caring. Dr. Eby worked me in a day Dr. Cook was not in the office and was equally as caring and professional.
-Lynn S.
Lebanon, TN
When our daughter broke her arm I was amazed at the level of compassion from the moment we checked in to the day we got the cast removed! Thanks AOS!!
-Todd K.
Brentwood, TN
I am very well pleased with this group. I have visited four of their doctors for different things. Dr. Patel operated on my neck several years ago. Dr. Eby takes care of my back/leg pain. Dr. LaDouceur just operated on my hand. Great job, can't tell it was operated on. Dr. Passmore fixed my foot fracture. Finally physical therapy group was amazing. You can't go wrong with AOS.
-Carol A.
Mt. Juliet, TN
I absolutely love this place. They are always courteous and professional. You actually get a live person when you call in; and they get me in quick, no matter what my issue is. Dr. LaDouceur knew exactly what was wrong with my shoulder at my very first appointment. After struggling for 3 months I finally found a place that fixed my shoulder. The surgery was quick and they've been wonderful in following up with my progress. My son is also a patient here, and I wouldn't go anywhere else. The entire staff are warm and friendly at every visit.
-Dana S.
Nashville, TN
Dr. Passmore and the physical therapy staff are great. They've taken great care of me over the past few years and some of my other family members as well. I'd recommend them to anyone! Very smart, encouraging, hard-working group of doctors and therapists!
-Jesse T.
Old Hickory, TN
I have been treated always in a sweet and professional manner each time I have entered the office. The ladies are always friendly and willing to help in any way. Dr. Patel always takes time to explain any questions you may have. I will definitely return if I have another need.
-Sharon T.
Tennessee Ridge, TN
Dr. Cook is a wonderful doctor. His bedside manner is fantastic. he makes you feel like you are his only patient. My mother has had total hip replacement under his care. We couldn't be happier with our doctor.
-Michelle M.
Hermitage, TN
Every single staff member always treats me with kindness and compassion. The doctors are awesome! Would (and already have) recommend this facility to anyone. You will NOT regret it!
-Robin T.
Hermitage, TN
The doctors, PAs, and staff here are great. I have been a patient here for 20 years and the staff hasn't changed. This practice offers the same great care even as it merged and grew.
-Patty L.
Nashville, TN
Dr. Eby and his staff are great!!! Dr. Eby is always cheerful and helps me with my back and sciatica issues! I highly recommend him!
-Roseanne B.
Mt. Juliet, TN